Blog
Today marks the crash of Flight 3407 and changes the airline industry in the USA.
Today marks 13 years since the crash of Flight 3407 in Clarence Center. The aircraft, a Bombardier Q400, entered an aerodynamic stall from which it did not recover, and crashed into a house in Clarence Center, New York, at 10:17 pm EST (03:17 UTC), killing all 49 passengers and crew on board, as well as one person inside the house. Feb. 12, 2009 – A new era of aviation safety began.
 It's a day of solemn remembrance, as it was 13 years ago, on February 12, 2009, that Continental Airlines Flight 3407 crashed in Clarence Center as it approached the Buffalo Niagara International Airport. The plane struck a home, killing everyone on board, and one man in the house.
Aviation accidents can be traced to a variety of causes, including pilot error, air traffic controller error, design and manufacturer defects, maintenance failures, sabotage, or inclement weather. This accident was mostly based on pilot error, icy weather, and stressful conditions due to fatigue. Let's dig in about what happened.

How did the Colgan 3407 Buffalo change the airline industry?
Since then, the families of the victims have not stopped fighting to reform the airline industry. It's led to new safety regulations; in addition to all, they have accomplished to implement to make sure commercial pilots meet or exceed a minimum of 1,500 flight hours while training.
Retired Airline Pilots and Veterans said the nation's remarkable aviation safety record is rooted in part in the tragedy that happened on that icy night in Clarence 10 years ago.
After federal investigators found that the pilots of Flight 3407 were inadequately trained and yawning in the cockpit, the Families of Continental Flight 3407 pushed Congress to pass a landmark law requiring pilots to have better training, more experience and more rest.
That law, combined with other improvements that federal regulators and the airlines made both before and after that legislation passed, created the safest era in aviation history.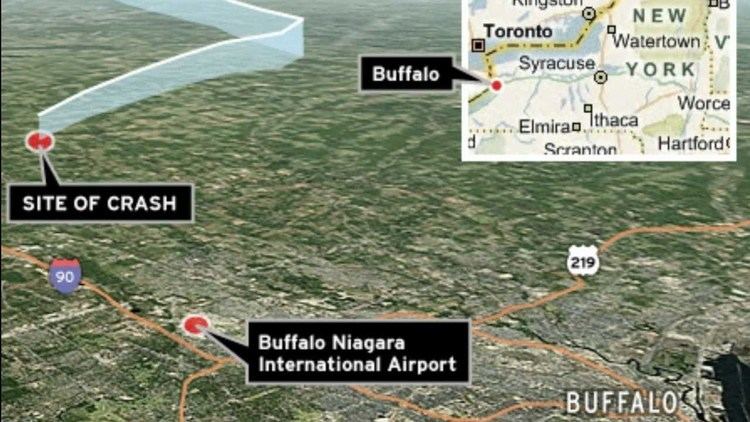 A landmark law
Flight 3407 families turned the lessons of a plane crash into law.
Sullenberger, who famously piloted a US Airways jet to a safe landing on the Hudson River after a bird strike disabled the plane's engines in January 2009, marvels at what the Flight 3407 families accomplished.
"Everyone who flies owes the Buffalo families a debt of gratitude that they will never be able to repay," he said.
The lessons of the Clarence crash spilled out in wrenching detail at National Transportation Safety Board hearings in May 2009. The co-pilot, a fatigued 24 year-old with a cold, misprogrammed a computer that made the plane slow down too much as it approached Buffalo. The pilot – hired even though he failed three test flights early in his career – wasn't fully trained in handling such emergencies and botched his response, crashing the plane.
Rep. Chris Collins, a Clarence Republican, agreed. "It is no coincidence that the United States has experienced zero commercial airline fatalities caused by pilot error since the 2010 airline safety bill became law," said Collins, who, as Erie County executive in 2009, rushed to the scene of the crash.
Looking back on it all now, the Flight 3407 families seem amazed at their own accomplishments.
"The thing that does always stand out to me is the fact that we're just a group of ordinary people who did something extraordinary," said Karen Wielinski, who lived in the house that Flight 3407 struck and whose husband, Doug, died when the plane struck the home.


A quiet revolution
The Flight 3407 crash didn't just shake those who lost love ones. It shook the airline industry, as well as those who oversaw it.
"No one wanted to be the next Colgan Air," the regional airline that operated Flight 3407, said Kevin Kuwik, one of the early leaders of the Flight 3407 families group.
The crash investigation revealed huge safety gaps between such regional airlines and the big carriers that sign them up to handle shorter flights.
For that reason, Randy Babbitt, then the administrator of the Federal Aviation Administration, vowed to bring "one level of safety" to the passenger airlines. He started preaching the virtues of the FAA's volunteer safety programs and urged the regional airlines to sign onto them.
Over time, many did. In 2009, only a third of the nation's airlines took part in a voluntary program in which employees are encouraged to report safety issues. Now, 71 percent of U.S. airlines do. Similarly, 11 percent of airlines took part in an FAA flight data monitoring program back in 2009, but now 45 percent do.
The FAA also established a program to gather all the data from such programs and share it among all the airlines.
"Now the airline industry as a whole can see where the problems are," and fix them before they result in accidents, said Sumwalt, the NTSB chairman.
Similarly, in 2008 the FAA started a voluntary program in which air traffic controllers report safety problems, meaning the FAA can look for dangerous patterns and work to correct them.
Technological improvements over many decades contribute to the aviation safety record, too, said Capt. John M. Cox, a longtime pilot who now runs a consulting firm called Safety Monitoring Systems.
For example, in 2000 the FAA required all planes to include systems that warn pilots when they fly too close to land or a body of water. That new equipment virtually eliminated accidents that happened when pilots couldn't see where they were flying. Such changes over several decades combined with the 2010 law to produce safer skies, Cox said. "We've worked brick by brick in attaining the safest transportation system ever designed by man," he said.


Unfinished business:
The Flight 3407 families still have unfinished business: protecting the most controversial part of the safety law and pressing the FAA to implement one last key piece.
The airlines have long fought the requirement that co-pilots as well as pilots have the equivalent of 1,500 hours of flight experience.
Some safety advocates say that provision is simple common sense.
"There's no replacement for flight hours, for experience," said Gail Dunham, executive director of the National Air Disaster Alliance, a safety group.
Sullenberger agreed.
If someone has only a few hundred hours of flight experience, "it means that in learning to fly, they likely have seen only one cycle of the seasons of the year as a pilot – only one spring with gusty crosswinds, only one summer filled with thunderstorms, only one winter of ice and snow," Sullenberger said. "They may never have had an airplane be de-iced. And if they fly in a fair-weather state like Arizona or sometimes Florida, they might not have even flown in a cloud."
But other aviation experts worry the 1,500-hour requirement puts too much emphasis on the quantity, rather than the quality, of a pilot's flight experience.
"We've always said the best measures are knowledge and flying skills," said Mark Millam, a vice president at the industry-backed Flight Safety Foundation